March 7, 2006
Genetic Influences on Addictions
Stern Center, Great Room, 7:00 p.m.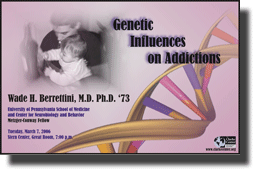 Issue in Context
Drug abuse and addiction are persistent problems in the United States. While environment plays a significant factor, genetics predetermines susceptibility to the development of addiction. A predisposition to addiction is evidently controlled by several different genes, allowing for a complex range of addictive traits. Though a large number of genes are involved in addictions, it is important to realize that the presence of these genes does not guarantee addiction; genotype does not dictate phenotype.
For example, one study estimated that 40 to 60 percent of cases of alcoholism stem from genetically influenced addiction. Other significant factors include environment, gender, age and ethnic group.
Due to the multifaceted manifestations addiction takes, there is no single medication that can be used to treat the disorders. Pharmacogenetics, the study of genetic factors that influence how a patient reacts to certain treatments, allows researchers and doctors to better choose the most effective treatment available for each patient. Every day new advances are made in the development of such methods.
About the Speaker
After graduating cum laude from Dickinson College in 1973, Dr. Wade H. Berrettini received his M.D. from Jefferson Medical College in 1977, and his doctorate in pharmacology from Thomas Jefferson University in 1979. Dr. Berrettini has been the director of the Center for Neurobiology and Behavior at the University of Pennsylvania and professor in the departments of psychiatry and genetics since 1997. He also is an attending physician at the hospital of the University of Pennsylvania. In addition, Dr. Berrettini was recognized by Best Doctors in America for 2003-04 and 2005-06.
His research, which focuses on the genetic aspects of epilepsy, bipolar disorder, and addictions, has been published extensively in peer-reviewed medical journals. Dr. Berrettini is a member of the Society for Biological Psychiatry, the American College of Neuropsychopharmacology, and the American Society of Human Genetics, and also holds editorial positions on several scientific and medical journals, including Addiction Biology and American Journal of Medical Genetics. His book, entitled Psychiatric Genetics, was published in 1998. He also holds two international patents regarding gene recognition and genetically diagnosing disorders. Dr. Berrettini returns to Dickinson as a Metzger-Conway Fellow in honor of his achievement.
Related Links