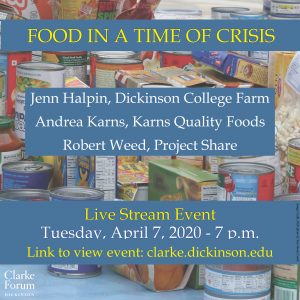 Tuesday, April 7, 2020 – 7 p.m.
Live Stream Event
Panelists
Jenn Halpin, Dickinson College Farm
Andrea Karns, Karns Quality Foods
Robert Weed, Project Share
Access to quality food was already an issue for many families in Central Pennsylvania prior to the arrival of the coronavirus. Today, the question of access is more urgent for many more people. Supply chains are also threatened, as our efforts to respond to the health crisis creates all kinds of unforeseen challenges. A panel of experts will discuss food, food supply chains and food access during a time of crisis.
This program is sponsored by the Clarke Forum for Contemporary Issues.
Biographies (forthcoming)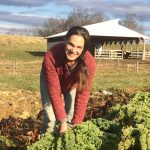 Jenn Halpin has been involved with food systems initiatives at Dickinson and within the region for over 18 years. She co-founded the organic farm at Dickinson College in 2007. In addition to directing all aspects of the farm, Halpin helped to establish Dickinson's Food Studies Certificate Program and develop regional purchasing initiatives at the college. Additionally, she was the founding president of Farmers on the Square, Carlisle's thriving producer-only farmers' market and served on the Pennsylvania Association for Sustainable Agriculture (PASA) board for nine years, several of them as board chair. Halpin holds a master's in sustainable food systems, a degree that she applies to work and research at the college farm, as well as in the courses that she teaches at Dickinson.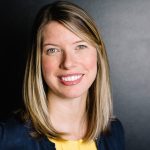 Andrea Karns is vice president of marketing and sales at Karns Quality Foods, where she spearheads various initiatives throughout the company's nine locations in Central PA.  Her day-to-day tasks include overseeing the company's rewards card program, executing promotional events, and managing production of the weekly and monthly ads.  Additionally, Karns interacts directly with customers through a variety of platforms, ensuring their questions, comments and concerns are recognized.
Karns is a board member of the Pennsylvania Food Merchants Association, a member of the Elizabethtown College Leadership Council and a board member of the Center of Dairy Excellence.  She holds a BA in Communications from Elizabethtown College and a MS in Food Marketing from Saint Joseph's University.
Robert D. Weed, raised in upstate New York,  earned his B.S. degree in political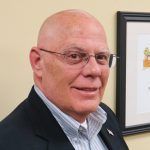 science and psychology from Dickinson College in 1980.  He then received his M.B.A. from American University in Washington, DC and promptly moved back to the Central Pennsylvanian area.  Weed has obtained coaching certification through various organizations and is a Gallup Great Workplace Award winner.
Prior to joining Project SHARE in January of 2017, Weed's professional career spanned over 35 years in the retail banking industry.  His primary responsibilities in banking involved managing teams of branch bankers and consumer lenders.  He also personally managed relationships with business owners and non-profit organizations.
Weed has become an advocate for those in our community who struggle with hunger and food insecurity.  In addition to managing operations at Project SHARE of Carlisle, he is a frequent guest speaker for civic and social organizations and at area colleges.  He has served as a panelist for the Clarke Forum, Montgomery Service Leaders Center for Service, Spirituality and Social Justice and the Hunger Banquet Simulation.
Weed is a director of the Cumberland County Food Alliance and the Carlisle Youth Initiative. He is an active member of Kiwanis International and serves as the treasurer of the Hampden Township Veterans recognition Committee.  He proactively engages legislators and community leaders as part of his work to end hunger and food insecurity.
Video of the Presentation