Associate Professor, Boston University
Africa's Sources of Knowledge in Ajami Scripts
Thursday, March 21, 2013
Stern Center, Great Room, 7:00 p.m.
This talk will address the myth of illiteracy in Islamized areas of Africa. It uncovers important sources of African knowledge written in the modified classical Arabic script known as Ajami.
The event is sponsored by The Clarke Forum for Contemporary Issues and co-sponsored by Middle East Studies and the Departments of Africana Studies, History, and French and Italian.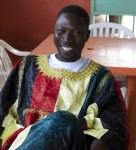 Biography (provided by the speaker)
Dr. Fallou Ngom is an associate professor of anthropology and director of the African Language Program at the African Studies Center at Boston University. His research interests include the interactions between African languages and non-African languages, the Africanization of Islam in the Sahel, and Ajami literatures, records of West African languages written in Arabic script.
Relevant Links
http://www.theworld.org/2010/09/africa-ajami-writing/
http://www.bu.edu/bostonia/summer09/ajami/
Video of the Lecture