Performer and Writer
I'm Smiling Because I'm Uncomfortable

Friday, February 16, 2018
Adams Hall, Basement Kitchen, 4:30 p.m.
Why do we eat? Why do we stop eating? This one woman show is an autobiographical story traveling from early childhood experiences of queerness and lessons on body image, to a college eating disorder, to the present challenges of eating and living in a human body.
This program is sponsored by the Clarke Forum for Contemporary Issues and is part of Love Your Body Week programming.
Biography (provided by the guest)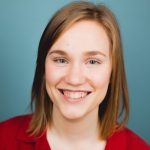 Emma Howard (Performer, Writer) is a recent graduate from the Experimental Theatre Wing at Tisch School of the Arts. Most of her work addresses eating and mental illness. When not writing or performing, she works for a non-profit theatre organization called The Possibility Project. To pay rent, she works at an overpriced vegan fast food restaurant that caters to a lot of men at JP Morgan. She is interested in one day becoming a medical and humanitarian clown and using physical comedy to tackle body image issues. Her favorite food to binge on is peanut butter granola.