Interfaith Youth Core (IFYC)
Out of Many Faiths: Religious Diversity and the American Promise
Wednesday, October 24, 2018
Anita Tuvin Schlechter Auditorium, 7 p.m.
America is the most religiously devout country in the Western world and the most religiously diverse nation on the planet. Will America's identity as a Judeo-Christian nation shift as citizens of different backgrounds grow in numbers and influence? In what ways will minority religious communities themselves change as they take root in American soil? In addressing these questions, Eboo Patel will explore how America's promise is the guarantee of equal rights and dignity for all, and how that promise is the foundation of America's unrivaled strength as a nation. A book sale and signing will follow the program.
This event is sponsored by the Clarke Forum for Contemporary Issues and co-sponsored by The Marjorie M. and Irwin Nat Pincus Fund in Honor of their Daughters, The Milton B. Asbell Center for Jewish Life, the Division of Student Life, the Center for Service, Spirituality & Social Justice, the Office of Institutional Effectiveness & Inclusivity, the Departments of Judaic Studies and Religion, the First Year Seminar Program and the Churchill Fund. It is also part of the Clarke Forum's Leadership in an Age of Uncertainty Series.
Biography (provided by the speaker)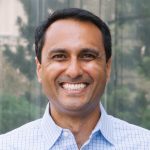 Eboo Patel is a leading voice in the movement for interfaith cooperation and the founder and president of Interfaith Youth Core (IFYC), a national nonprofit working to make interfaith cooperation a social norm. He is the author of Acts of Faith, Sacred Ground and Interfaith Leadership. Named by U.S. News & World Report as one of America's Best Leaders of 2009, Patel served on President Obama's Inaugural Faith Council. He is a regular contributor to the public conversation around religion in America and a frequent speaker on the topic of religious pluralism. He holds a doctorate in the sociology of religion from Oxford University, where he studied on a Rhodes scholarship. For over fifteen years, Patel has worked with governments, social sector organizations, and college and university campuses to help realize a future where religion is a bridge of cooperation rather than a barrier of division.
Video of the Lecture