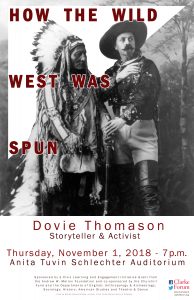 Storyteller and Activist
Residency: Monday, October 29 – Friday, November 2, 2017
How the Wild West was Spun
Thursday, November 1, 2018
Anita Tuvin Schlechter Auditorium, 7 p.m.
Thomason's story begins in 1887, eleven years after the battle of the Little Big Horn, when Buffalo Bill Cody brought his premiere of Buffalo Bill's Wild West to Europe, cementing Cody as one of the most famous people of his day. His show, which he called The Drama of Civilization, attracted millions and affected perceptions of history to the present day.
This residency is sponsored by the Clarke Forum for Contemporary Issues and a Civic Learning and Engagement Initiative Grant from the Andrew W. Mellon Foundation and co-sponsored by the Churchill Fund and the departments of English, anthropology & archaeology, sociology, history, American studies, and theatre & dance.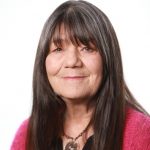 Biography (provided by the speaker)

Dovie Thomason has been a storyteller and lecturer for over thirty years, sharing the importance of Indigenous narratives and arts to give voice to untold stories of Indigenous America. Her  ability to craft tales that not only enchant audiences––but also
raise provocative questions about Indigenous realities ––has long made her an inspiriting contributor to schools and organizations across the globe. The wry humor and subtle graces that infuse Thomason's work enable her broad and modern appeal, while a lifetime of study and tradition bearing ensure the deep cultural roots of her craft remain intact. When she adds personal stories, the result is a contemporary voice, speaking with elegance , wit, passion and intention.
As an adult, Thomason never strayed far from the legacy her grandmother gave her. She  graduated college in 1970, obtaining a Bachelor of Arts in English and Theatre, with a concentration in Native Studies.  Following graduate study in secondary education, she began to teach high school students in Ohio, as well as work with urban Indian centers and Headstart programs which continue to this day. During her time in the classroom, she came to understand that stories were often the most effective way of reaching learners. This realization confirmed the importance of weaving her grandmother's lessons into formal education, and increased her drive to understand more about her ancestral craft.
Thomason has been aided in her commitment to Indigenous oral traditions by tribal elders of many nations. The work and support of Vine Deloria (Dakota ) was a critical inspiration to her drawing from writings of his aunt, Ella Deloria , and Gertrude Bonnin, aka Zitka la -Ša (Nakota ). Making the commitment to share these stories publicly was particularly encouraged by the example and direct guidance of Alfonso Ortiz (Tewa ). From them, as well as many other seasoned tradition bearers, Thomason continues to hone her understanding of the ancient craft of storytelling. She was entrusted with new tales from neighboring cultures, different interpretations of familiar stories, and the tales of her  maternal Lakota ancestors. Learning to convey these stories to audiences young and old, Indigenous and non-Indigenous, became Thomason's vocation.
In the three decades  following her decision to become a professional storyteller, Thomason's dedication to sharing Indigenous voices has taken her down many roads. She has worked with countless schools and universities, acting as a guest or artist-in-residence for institutions from New  England to New Zealand. She has taught Native studies and regularly visits universities as a visiting lecturer or artist-in-residence, most recently with the Center for Creative Writing and Oral Culture at the University of Manitoba, which also hosts the National Centre for Truth and Reconciliation. She has presented keynotes, workshops, and consultations for noted organizations, including the National Headstart Conference, TEDx Leadership Conference, and NASA. Her storytelling has been featured on countless prominent stages, including the Kennedy Center, Smithsonian Museum, London's Barbican, and Shakespeare 's Globe Theater, working with artistic director Mark Rylance. Thomason has also found the time to work on a variety of special projects, lending her voice to narrations for the BBC, NPR, PBS, RTE, and the National Parks Service. She has also produced award-winning audio recordings of her own, receiving the Parent's Choice Gold Star, the American Library Association's Editor's Choice Award, and the Audiofile Earphones. Other notable recognitions include the National Storytelling Network's  ORACLE: Circle of Excellence Award, Wordcraft Circle of Native Writers' Traditional Storyteller Award, and acknowledgment as a master traditional /teaching artist by the National Endowment for the Arts, New England Foundation for the Arts, and Smithsonian Associates.
Thomason represented the U.S. as the featured  storyteller in Estonia : EU City of Culture  and Derry/Londonderry: UK City of Culture and Freedom Park in South Africa. She has been hosted multiple time s by The National Museum of the American Indian, as well as international storytelling festivals around the world. Thomason has used her storytelling  to advise the UCLA Film School on narrative in modern film, NASA on Indigenous views of technology, the Smithsonian Associates' Scholars Program and the premier TEDx Leadership Conference. Her role as a traditional cultural artist has been honored by the National storytelling Network's ORACLE: Circle of Excellence Award and the Wordcraft Circle of Native Writers' Traditional Storyteller Award.