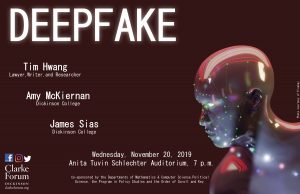 Wednesday, November 20, 2019
Anita Tuvin Schlechter Auditorium, 7 p.m.
Panelists:
Tim Hwang, lawyer, writer, and researcher
Amy McKiernan, Dickinson College
James Sias, Dickinson College
Deepfake, a term coined in 2017, is an artificial intelligence technique which uses generative adversarial networks to create fake videos. Deepfakes have been used in pornography (both to fake the presence of public figures in pornographic videos, typically well known actresses, and in "revenge porn"). Those examples illustrate clearly the threat posed by deepfakes to privacy and human rights. To date their use in politics has been very limited, but the threat to democratic institutions is quite real.
This event is sponsored by the Clarke Forum for Contemporary Issues and co-sponsored by the departments of mathematics & computer science, political science, the Program in Policy Studies and the Order of Scroll and Key. It was initiated by the Clarke Forum's student project managers.
Biographies (provided by the panelists)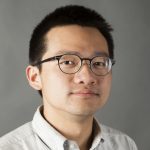 Tim Hwang is a lawyer, writer, and researcher working at the intersection of emerging technologies and society. He was formerly director of the Harvard-MIT Ethics and Governance of AI Initiative, a philanthropic project working to ensure that machine learning and autonomous technologies are researched, developed, and deployed in the public interest. Previously, he served as Google's global public policy lead on artificial intelligence, leading outreach to government and civil society on issues surrounding the social impact of the technology. Dubbed "The Busiest Man on the Internet" by Forbes Magazine, his current research focuses on the geopolitical aspects of computational power and machine learning hardware.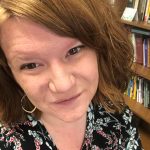 Amy McKiernan received her Ph.D. in philosophy from Vanderbilt University in 2017, where she focused on ethics and feminist philosophy. Prior to that, McKiernan earned her M.A. in philosophy and social policy from American University in 2011 and her B.A. from The University of Scranton in 2007. Her research interests include the ethics of blame, the ethics of punishment, and the intersections of pain and oppression. McKiernan frequently teaches courses on practical ethics and serves as the director of the Ethics Across Campus & the Curriculum program. This initiative is part of the broader civic learning and community engagement initiative supported by a grant from the Andrew W. Mellon Foundation.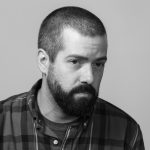 Jim Sias is an assistant professor in Dickinson's Department of Philosophy. He earned his Ph.D. in philosophy from the University of North Carolina at Chapel Hill in 2013, specializing in ethics and moral psychology. He regularly teaches courses in these areas. Sias's research focuses primarily on the foundations of morality and moral cognition, with special interests at the intersection of ethics and psychiatry. In 2016, he published a book on the nature of evil and he is currently working on issues related to rationality, wellbeing, and schizophrenia.
Related Links
https://aiethicsinitiative.org/
https://spectrum.ieee.org/tech-talk/robotics/artificial-intelligence/experts-bet-on-first-deepfakes-political-scandal
Video of the Discussion