University of Chicago
The Molly and Wayne Borges Memorial Lecture

What the History of Anti-Semitism Tells Us about Hate Today
Monday, March 23, 2020
Anita Tuvin Schlechter Auditorium, 7 p.m.
From their earliest origins to the present moment, Christians and Muslims have given shape to their faiths by interacting with and thinking about Jews and Judaism.  How has that long history of thought contributed to anti-Semitism in the past and present?  And what can the study of that history offer the future?"
This event is a joint venture sponsored by St. John's Episcopal Church on the Square and the Clarke Forum for Contemporary Issues.
Biography (provided by the speaker)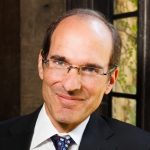 David Nirenberg has written widely about the ways in which Jewish, Christian, and Islamic cultures interrelate with each other.  He is the author of, among other books, Communities of Violence: Persecution of Minorities in the Middle Ages;  Anti-Judaism: The Western Tradition; Neighboring Faiths: Christianity, Islam, and Judaism Medieval and Modern; and Aesthetic Theology and its Enemies: Judaism in Christian Painting, Poetry, and Politics.  His essays have appeared in the London Review of Books, the Nation, the New Republic, Raritan, and Dissent, and he has contributed to numerous documentaries and films in Europe and the US. Professor Nirenberg teaches in the committee on social thought at the University of Chicago, where he is also the dean of the Divinity School.
Related Link
https://www.newyorker.com/news/q-and-a/how-anti-semitism-rises-on-the-left-and-right
The Molly and Wayne Borges Memorial Lecture
The purpose of this Memorial Lecture is to honor the lives and ministries of Wayne and Mary Ellen Borges by establishing an annual event which will feature a person well qualified to address topics of importance relating to spiritual or social issues.
Such presentations may address a wide range of topics and issues which might have contemporary application or interest, or historical importance. These topics would not be limited to theological, biblical, or ecclesiastical issues, but also could include ethical, societal, psychological, philosophical, and scientific topics.
As a joint venture of St. John's Episcopal Church, on the Square, Carlisle and the Dickinson College, Carlisle, Pennsylvania, this lecture is intended to bring the area religious community and the college community together as topics of importance and presenters of recognized accomplishment and authority are invited to address both constituent sponsoring groups.