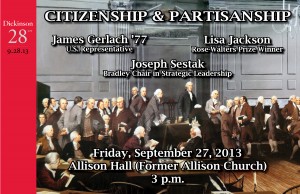 Friday, September 27, 2013
Allison Hall (former Allison Church), 3 p.m.
Panelists:
John E. Jones III '77 filling in for James Gerlach '77, U.S. Representative, PA 6th District
Lisa Jackson, vice-president of Environmental Initiatives at Apple and the current Rose-Walters Prize winner for Global Environmental Activism
Joseph Sestak, former three-star admiral and congressman, and the 2013-14 recipient of the General Omar N. Bradley Chair in Strategic Leadership
Professor Douglas Edlin, political science, will moderate a panel discussion that will explore how partisanship is related to the rights and responsibilities of citizenship in the contemporary constitutional framework of the United States.  This event is one of several celebrating the inauguration of Nancy A. Roseman as the new president of Dickinson College.
Update: James Gerlach was replaced with John E. Jones III '77
Biographies (provided by the speakers)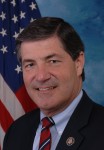 James Gerlach '77  has served the citizens of Southeastern Pennsylvania for more than 20 years. His distinguished career began in 1990 with the first of two terms in the Pennsylvania House of Representatives, which was followed by two terms in the Pennsylvania Senate.
Jim is serving his sixth term in the U.S. House of Representatives, representing portions of Berks, Chester, Lebanon and Montgomery counties. In December 2010, he earned a spot on the influential House Ways and Means Committee. Gerlach serves on the Ways and Means Subcommittees on Health and Select Revenue.
One of his biggest legislative accomplishments was creating a much-needed veterans cemetery here in Southeastern Pennsylvania. The bill Jim authored was signed into law by the President on Veterans Day in 2003, and the cemetery opened in Bucks County in 2009.
National publications, including National Journal and Roll Call, have recognized Gerlach's strong record as an independent voice for his constituents. And no member of Congress has had to fight closer contests each election cycle. The 6th District was ranked as the most competitive district in the nation between 2002 and 2008, according to a University of Minnesota survey.
Gerlach earned a B.A. from Dickinson College and a J.D. from the Dickinson School of Law in Carlisle, Pennsylvania
Lisa Jackson is Apple's vice president of Environmental Initiatives, reporting to CEO Tim Cook. Jackson oversees Apple's industry-leading efforts to minimize its impact on the environment, including removing toxics from its products, incorporating renewable energy in its facilities and continually raising the bar for energy efficiency in the electronics industry.
Jackson previously served as Administrator of the U.S. Environmental Protection Agency and her career in public service spanned over 25 years. She was appointed EPA Administrator by President Barack Obama in 2009 and served until February 2013.  As Administrator, she focused on core issues of reducing greenhouse gases, protecting air and water quality, preventing exposure to toxic contamination and expanding outreach to communities on environmental issues.  Prior to this, she was Chief of Staff to New Jersey Governor Jon S. Corzine and Commissioner of the state's Department of Environmental Protection.
In recognition of her work, Jackson has been listed twice on Time Magazine's list of the "100 Most Influential People in the World" and was named one of Essence Magazine's "40 Women Who Have Influenced the World."
Jackson earned a bachelor's degree in chemical engineering from Tulane University, along with a master's degree in chemical engineering from Princeton University. She also holds an honorary law degree from Pace Law School, and honorary doctorate degrees from Tulane University, Florida A&M University, American University and Montclair State University.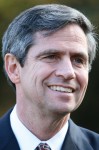 Joseph Sestak was born and raised in Pennsylvania, graduated from the U.S. Naval Academy and served 31 years in the U.S. Navy, attaining the rank of 3-star Admiral. He led a series of operational commands at sea, culminating in command of the GEORGE WASHINGTON Aircraft Carrier Battle Group during combat operations in Afghanistan and Iraq. He served as President Clinton's director for Defense Policy in the National Security Council; as head of "Deep Blue", the Navy anti-terrorism unit focused on the "Global War on Terrorism"; and oversaw the Navy's five year $350 billion warfare budget as Deputy Chief of Naval Operations.  After the Navy, Sestak was elected to Congress from Pennsylvania's 7th Congressional District in 2007, where he served through 2010 when he ran for the U.S. Senate. The highest-ranking former military officer ever elected to Congress, The National Journal identified him as "at the ideological center of the House," while the House Majority Leader named Sestak the "most productive" representative in his class, through his service on the Armed Services Committee, the Education and Labor Committee, and as vice chairman of the Small Business Committee. While in the Navy, Sestak received a master's in public administration, and a Ph.D. in political economy and government from Harvard University. Married to Susan, and Dad to Alex, he resides in Edgmont, Pennsylvania.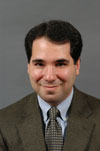 Douglas E. Edlin (moderator) is an associate professor and chair of the Department of Political Science at Dickinson College. Edlin received his Ph.D. from Oxford University and holds a J.D. from Cornell, an M.A. from the University of Pennsylvania, and a B.A. from Hobart College.  His research and teaching interests are in comparative constitutionalism, the judicial process and judicial review, the legal and policy issues raised by developments in assisted reproductive technology, and the politics of race and gender in the United States.  Along with a number of articles in leading journals, his authored book, Judges and Unjust Laws, was published by the University of Michigan Press, and his edited book, Common Law Theory, was published by Cambridge University Press.
John E. Jones III '77  commenced his service as a United States District Judge on August 2, 2002. He is the 21st judge to sit in the Middle District of Pennsylvania. Judge Jones was appointed to his current position by President George W. Bush in February 2002, and was unanimously confirmed by the United States Senate on July 30, 2002.  More Information.
 Video of the Panel Discussion