Professor, University of North Carolina at Chapel Hill
Jesus and the Historian
Tuesday, February 25, 2014
Anita Tuvin Schlechter Auditorium, 7 p.m.
Biblical scholars have long recognized the discrepancies between the four New Testament Gospels and the difficulties that result in determining who Jesus really was.  Can these four Gospels be relied upon to give us an accurate account of Jesus's words and deeds?
This event is sponsored by St. John's Episcopal Church on the Square and the Clarke Forum for Contemporary Issues.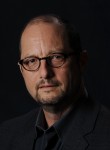 Biography (provided by the speaker)
Bart D. Ehrman is the James A. Gray Distinguished Professor at the University of North Carolina at Chapel Hill. He came to UNC in 1988, after four years of teaching at Rutgers University. He served as chair of the UNC Department of Religious Studies from 2000-2006.
Professor Ehrman completed his M.Div. and Ph.D. degrees at Princeton Seminary, where his 1985 doctoral dissertation was awarded magna cum laude.   An expert on the New Testament and the history of Early Christianity, he has written or edited 29 books, numerous scholarly articles, and dozens of book reviews.  In addition to works of scholarship, Professor Ehrman has written several textbooks for undergraduate students and trade books for general audiences.  Four of his books have been on the New York Times Bestseller list: Misquoting Jesus, God's Problem, Jesus Interrupted, and Forged. His books have been translated into twenty-seven languages.
Professor Ehrman has served as president of the Southeast Region of the Society of Biblical literature and chair of the New Testament textual criticism section of the Society.  Among his editorial positions, he has served as associate editor for the Journal of Early Christian Studies, book review editor of the Journal of Biblical Literature, and editor of the monograph series The New Testament in the Greek Fathers (Scholars Press). He currently serves as co-editor of the series New Testament Tools, Studies, and Documents (E. J. Brill), co-editor-in-chief for the international journal of early Christian studies, Vigiliae Christianae, and area editor (early Christianity) for the Encyclopedia of Ancient History.
Professor Ehrman has been the recipient of numerous academic awards, grants, and fellowships, including the UNC Undergraduate Student Teaching Award (1993), the Phillip and Ruth Hettleman Prize for Artistic and Scholarly Achievement (1994), the Bowman and Gordon Gray Award for excellence in teaching (1998-2001), the Pope Spirit of Inquiry Teaching Award (2008), and the Religious Liberty Award from the American Humanist Association (2011).
Professor Ehrman has featured widely in television, radio, and print media, including The Daily Show with John Stewart, The Colbert Report, CNN, Discovery Channel, History Channel, National Geographic, BBC, Fresh Air, Talk of the Nation, Time Magazine, Newsweek, the New York Times, and the Washington Post.  He now lives in Durham NC with his wife Sarah (and dog Billy).
Mary Ellen Borges Memorial Lecture
The purpose of this Memorial Lecture is to honor the life and ministry of Mary Ellen Borges by establishing an annual event which will feature a person well qualified to address topics of importance relating to spiritual or social issues.
Such presentations may address a wide range of topics and issues which might have contemporary application or interest, or historical importance. These topics would not be limited to theological, biblical, or ecclesiastical issues, but also could include ethical, societal, psychological, philosophical, and scientific topics.
As a joint venture of St. John's Episcopal Church, on the Square, Carlisle and the Dickinson College, Carlisle, Pennsylvania, this annual lecture is intended to bring the area religious community and the college community together as topics of importance and presenters of recognized accomplishment and authority are invited to address both constituent sponsoring groups.
Video of the Lecture