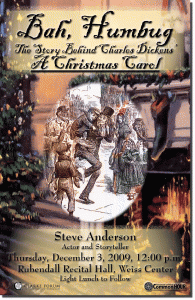 COMMON HOUR
Thursday, December 3, 2009
Weiss Center for the Arts, Rubendall Recital Hall
We all know the story of Ebenezer Scrooge. But what don't we know? Why did Dickens write A Christmas Carol in the first place? What can it tell us about Victorian culture, from the issue of poverty to the myth of the good death? How does it continue to shape our idea of the "traditional" Christmas? And what is a humbug, anyway? One part lecture, one part storytelling, and one part theatrical performance, "Bah, Humbug" explores the story behind one of the most popular ghost stories in English literature.
"Bah, Humbug" was developed with generous support from the Pennsylvania Council on the Arts and Jump Street Arts Development.
About the Performer
A former English professor at Gettysburg and Elizabethtown, Steve Anderson is a professional actor and storyteller with more than twenty years of performance experience. His credits include more than one hundred stage plays, ten years with the Pennsylvania Renaissance Faire, seven years as a storyteller in Gettysburg, and three years as a certified living-history interpreter with the Pennsylvania Past Players. He narrates audiobooks, writes a newspaper column on Pennsylvania history… and visits schools, theatres, libraries, and special events throughout Pennsylvania with his own touring series, GreatTalesLive.com.