Anita Tuvin Schlechter Auditorium (ATS), 7 p.m.
No Ruined Stone: A Reading & Conversation with Shara McCallum
Shara McCallum, award-winning poet
McCallum will read from her new book of poems, No Ruined Stone. The reading will be followed by a conversation with Professor Adrienne Su about the relationship between McCallum's poetry and history.
The  program is sponsored by the Clarke Forum for Contemporary Issues and co-sponsored by the Department of English, the  Latin American, Latinx & Caribbean Studies Program, the Creative Writing Program, and the Women's & Gender Resource Center.
Topic overview written by Rebecca Fox '22
Biographies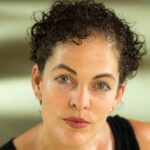 From Jamaica, and born to a Jamaican father and Venezuelan mother, Shara McCallum is the author of six books published in the US & UK, including No Ruined Stone. McCallum's poems and essays have appeared in journals, anthologies, and textbooks throughout the US, Caribbean, Latin America, Europe, and Israel. La historia es un cuarto/History is a Room, an anthology of poems selected from across her six books and translated into Spanish by Adalber Salas Hernández, will be published in 2021 by Mantis Editores in Mexico. In addition to Spanish, her poems have been translated into Italian, French, Read more