Journalist, Writer and Civic Educator
Winfield C. Cook Constitution Day Address
Civil Discourse in an Uncivil Age
Monday, September 18, 2017
Anita Tuvin Schlechter Auditorium, 7 p.m.
Heffner will discuss the millennial citizen, the space of old and new media, and the character of contemporary political discourse. How can we restore faith in democracy?
This event is sponsored by the Clarke Forum for Contemporary Issues and Penn State's Dickinson Law and co-sponsored by the Office of the Provost, Division of Student Life and the Churchill Fund. It is also part of the Clarke Forum's Leadership in an Age of Uncertainty Series.
Biography (provided by the speaker)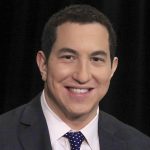 Alexander Heffner is the host of The Open Mind on PBS. He has covered American politics, civic life and Millennials since the 2008 presidential campaign. His work has been profiled in The Washington Post, The New York Times, The Christian Science Monitor, Los Angeles Times, Variety, Medium, and on NBC News, MSNBC, C-SPAN, CNN, BBC and NY1, among other media outlets. His essays, reviews and op-eds have appeared in TIME, Reuters, RealClearPolitics, NYT's Room for Debate, The Wall Street Journal and The Boston Globe, among other publications. He has lectured, participated in and moderated panels at the Newseum, National Constitution Center, FDR Library and Museum, Center for Information and Bubble Studies, Institute of Applied Politics, Center for Telecommunication and Law, Brian Lamb School of Communication, Graduate School of Political Management, University of San Diego, University of Notre Dame, University of New Mexico, University of South Florida, Simpson College and Skidmore College, among other institutions of learning. He was the political director for WHRB 95.3 FM and host of The Political Arena.  A native New Yorker, he is a graduate of Andover and Harvard.
Winfield C. Cook Constitution Day Address
The annual address is endowed through the generosity of Winfield C. Cook, former Dickinson Trustee. Each year the Clarke Forum invites a prominent public figure to campus to speak on a contemporary issue related to the Constitution. The event celebrates the signing of the United States Constitution and commemorates Dickinson's connection to that document, through John Dickinson's participation as an original signer. Previous speakers have included Kenneth Starr, Ira Glasser, Lowell Weicker, Marjorie Rendell, Tom Ridge, Michael Chertoff and Kimberlé Crenshaw.
Video of the Presentation