Tuesday, February 14, 2006
30 Years of Saving the Chesapeake Bay: Observations, Lessons and a Forecast for the Next 30
Stern Center, Great Room, 7:00 p.m.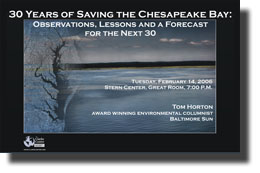 Issue in Context
In past few decades, the Chesapeake Bay – one of world's most complex ecosystems – has faced serious decline due to pollution and other factors resulting from changes in surrounding landscape and modern times. Most scientists attribute these changes, at least indirectly, to ecological stress due to human activities, especially land use changes in the bay watershed related to deforestation, agriculture, use of fertilizers, and more recently, urbanization and sewage.
The physical processes that drive the Chesapeake Bay ecosystem sustain many habitats and organisms. Even the smallest of creatures plays a vital role in the overall health and production of the Bay. Therefore, measures are being taken to preserve and return the Chesapeake Bay to a condition that more closely resembles its original productivity. In order to do so, scientists and resource manager alike must first explore ways to improve water quality.
Tom Horton will discuss the efforts being taken in the restoration process and obstacles faced in such efforts.
About the Speaker
Tom Horton, environmental columnist, writes extensively on the restoration of the Chesapeake Bay and is author of six books on the Chesapeake Bay , numerous magazine pieces, including National Geographic, Rolling Stone, New York Times, Audobon , and the Smithsonian .
Tom Horton attended Johns Hopkins University with a degree in economics and has written on environmental issues for the Baltimore Sun from 1972-1987. His work has earned him numerous awards, including: The National Wildlife Federation's Conservation Communicator of the Year award, The Scripps-Howard Meeman award for best conservation series (on the Amazon jungle), The Kenny Rogers World Hunger Media Award (for reporting on the Ethiopian famine), and the John Burroughs' Medal for the country's best natural history book in 1988.
Related Links
• Chespeake Bay Prgram: America's Premier Watershed Restoration Partnership
• Chesapeake Bay Foundation: Save the Bay
• Alliance for the Chesapeake Bay: The Voice of the Bay