Wednesday, November 8, 2006
Women Confronting Globalization
Stern Center, Great Room – 7:00 p.m.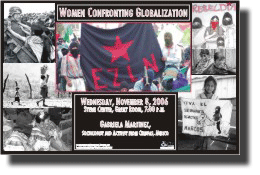 Issue in Context
Ninety percent of Mexico 's potable water comes from Chiapas, but many communities have no access to fresh water. Similarly, Chiapas is Mexico's top producer of hydroelectric energy and a major producer of natural fuels, and yet most of Chiapas ' indigenous people live without electricity. The Zapatistas, a largely non-violent revolutionary group struggling for the autonomy of indigenous people, has spent the last two decades raising awareness of local conditions domestically and internationally. Early in the Zapatista's history, women joined the ranks and many rose to leadership positions, eventually creating the "Revolutionary Laws of Women," which explicitly provided for equal rights for women in Zapatista-controlled areas. While the government has made changes in Chiapas, the region still suffers.
About the Speaker
Gabriela Martinez is a sociologist, activist, and researcher who worked with the Center of Political Analysis and Social and Economic Research in Chiapas, Mexico. Martinez has focused her studies and community work on the collective rights of indigenous communities, liberation theology, and fair trade and women's cooperatives.
Celeste Escobar will translate for Martinez at this event. Escobar, originally from Paraguay , worked with Domestic Workers United to establish fair labor standards in the domestic work industry in the state of New York . She currently serves as a collaborator and producer of "Radio Chamba" out of Chicago, which seeks to educate, inform, and denounce unfair workplace practices.
Related Links
-"Explaining the Peace in Mexico" in The Washington Post
-The Zapatista Women: The Movement from Within
-Chiapas Watch
-Schools for Chiapas Volunteer Program