Anita Tuvin Schlechter Auditorium, 7 p.m.
Antiracism and Its Discontents: The Pros and Cons of Antiracist Activism in America
Erec Smith,  Associate Professor of Rhetoric at York College of Pennsylvania
In this talk, Smith will reflect on two major concerns regarding the state of education as it pertains to classical liberalism and the well-being of students of color in educational spaces. Smith considers these concerns relatively new and attributable to the influence of anti-racist activism and pedagogy. Although antiracism, as a general concept, is hard to refute, its implementation has manifested in divisive and regressive ways antithetical to classical liberal values like free speech, individual sovereignty, and even equality. Whether called Critical Race Theory, Critical Social Justice, or Culturally Responsive Pedagogy, the problem with antiracism stems from a difference of methodology that has produced calls for the banning of particular anti-racist practices and books, the demonization of concepts once considered virtuous, and the essentializing of race within various institutions. Smith will argue that there is, indeed, a problem with antiracist activism and pedagogy, but that we need more generative ways of addressing the issue that maintains the integrity of American education, fosters the well-being of students, and actually improves American race relations.
This program is sponsored by the Clarke Forum for Contemporary Issues and co-sponsored by the Popel Shaw Center for Race & Ethnicity.
Topic overview written by Amanda Sowah '22.
Biography (provided by the speaker)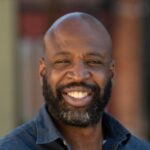 Erec Smith is an associate professor of rhetoric at York College of Pennsylvania. Although he has eclectic scholarly interests, Smith's primary work focuses on the rhetorics of anti-racist activism, theory, and pedagogy. He is a co-founder of Free Black Thought, a website dedicated to highlighting viewpoint diversity within the black intelligentsia. Smith's recent books include A Critique of Anti-Racism in Rhetoric and Composition: The Semblance of Empowerment (2020) and The Lure of Disempowerment: Reclaiming Agency in the Age of CRT (2022). Smith is a writing fellow for Heterodox Academy, and an advisor for both the Foundation Against Intolerance and Racism and Counterweight, an organization that advocates for classical liberal concepts of social justice.
Video of the Presentation