Wednesday, November 1, 2006
The Plain People of Pennsylvania
Anita Tuvin Schlechter Auditorium, 7:00 p.m.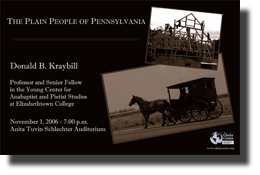 Issue in Context
Early this fall, the murder of five students in an Amish schoolhouse thrust a community and its culture into the international media spotlight and sent shockwaves through the Pennsylvania communities that had for so long coexisted with these peaceful people. Despite our vicinity to this culture, there is little understanding of these people who are known for their conservative dress and restricted use of modern technologies, such as electricity and cars.
About the Speaker
Donald B. Kraybill is Distinguished College Professor and Senior Fellow in the Young Center for Anabaptist and Pietist Studies at Elizabethtown College. Kraybill has also served as Provost at Messiah College. Nationally recognized for his scholarship on Anabaptist groups, Kraybill is the author or editor of over 18 books and dozens of professional articles. His books have been translated into six different languages. His research on Anabaptist groups has been featured in magazines, newspapers, and on radio and television programs across the United States and in many foreign countries, including Great Britain, Germany, the Netherlands, France, Australia, and Japan. He received the National Religious Book Award for The Upside Down Kingdom . Kraybill received his master's degree and doctoral degree in Sociology from Temple University. He received his bachelor's degree from Eastern Mennonite University.
Related Links
– Young Center for Anabaptist and Pietist Studies at Elizabethtown College
-"Old Order" Culture of Amish Schools in The Washington Post
-Plain People in The Guardian
-Tragedy in Nickel Mines in International Herald Tribune