Thursday, September 28, 2006
Sacrifice and Victory: The History and Now of Sacrifice and Victory for Human Rights
Stern Center, Great Room, 7:00 p.m.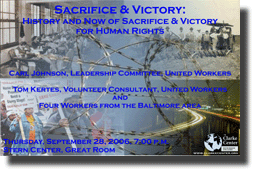 Issue in Context
Throughout the past century, there have been many struggles and subsequent victories for human and worker rights. From the 19th century struggle to abolish slavery to the current struggles of stadium workers at Camden Yards in Baltimore, many tactics and personal sacrifices have been integral for bringing about positive change for workers. The 2005 hunger strike of the Immokalee Workers against Taco Bell with a grueling four year legal battle finally resulted in Taco Bell's acceptance of the worker's demands for a penny a pound increase in the price paid for tomatoes. Taco Bell also pledged to work with the workers to improve wages and working conditions for farm workers in the Florida tomato industry. Without the tireless efforts of the workers, Florida tomato pickers, who are some of America's lowest paid workers, would still be living far below the poverty line.
At Camden Yards, Baltimore's baseball stadium, dozens of workers never received payment for an entire month of work. While those responsible for this were fired, it was simply the latest event in a series of human and labor rights violations at Camden Yards. Previously, stadium workers were paid $4.50 an hour – well below the minimum wage on state and federal levels. One such worker, Carl Johnson, lived in a small apartment with his father and thirteen other people, but still could not pay his necessary bills and expenses on time because he was not receiving compensation owed to him. From his experience, Carl realized that workers need to organize themselves to be effective in exacting change in an imperfect world.
About the Speakers
Carl Johnson
Carl Johnson is a member of the United Workers Leadership Committee. He joined the United Workers after he worked at Camden Yards for a month without ever receiving wages. Without his paycheck he could not pay the bills for rent, food, and other necessities in the apartment he shared with his father and thirteen others. Johnson started volunteering as a member of the Leadership Committee of the United Workers in 2005 to address problems like those he faced at Camden Yards. He became the youngest leader in the organization. He is also the organization's Students for Stadium Justice Coordinator, which brings him in touch with different student leaders at many schools and colleges in the Baltimore area.
Tom Kertes
Tom Kertes is a staff member of the United Workers Association. A longtime volunteer at the organization, Kertes recently gave up a career as a marketing consultant to work full-time with the United Workers for the organization of low-wage workers. Kertes has previously managed a small business and served as the executive director of a non-profit organization. He has provided messaging and marketing services for cause-based organizations such as 1-800-Save-a-Pet.com and Independent World Television. He spends much of his time at the United Workers Association sharing marketing skills and knowledge of effective communication with many of the other leaders in the organization.
Related Links
United Workers Association
Coalition of Immokalee Workers