President, Worldwide Documentaries, Inc.
Not My Life (Film Showing and Discussion with Film Director)
Tuesday, September 10, 2013
Stern Center, Great Room, 6:15 p.m.
Not My Life is a film that depicts the cruel and dehumanizing practices of contemporary human trafficking.  Bilheimer, who directed and produced the film, will make general remarks and conduct a question-and-answer session at the end of the film. This event is one of a series on "Hidden Dangers: Emerging Global Issues of the 21st Century" sponsored with the World Affairs Council of Harrisburg, Pennsylvania.
This event is sponsored jointly by the Clarke Forum for Contemporary Issues and the World Affairs Council of Harrisburg and co-sponsored by the Office of Institutional & Diversity Initiatives, and the Departments of Sociology and Economics.  It is also part of The Clarke Forum's Leadership in a Age of Uncertainty Series.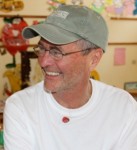 Biography (provided by the speaker)
Robert Bilheimer, president of the nonprofit company Worldwide Documentaries, is one of the most influential documentary filmmakers working in the world today.
In 1989, Robert was nominated for an Academy Award for Cry of Reason, a feature-length documentary that profiles the South African anti-apartheid leader Beyers Naude. Since that time, he has made carefully crafted documentary films on a wide range of social, cultural, and humanitarian concern.
Departing from the documentary genre in 1992, Robert also made the definitive film version of Nobel Laureate Samuel Beckett's play Endgame. He worked from a script prepared especially by the author for the series "Beckett Directs Beckett," a project of the Smithsonian Visual Press. Over the past ten years, Robert has made two films– A Closer Walk, about the global AIDS epidemic, and Not My Life, about human trafficking, that have been hailed as "masterpieces," and seen by millions of people across a very broad set of global demographics.
International film critics and human rights leaders have focused on both A Closer Walk and Not My Life as examples of Robert's ability to make documentary films that are at once powerful depictions of tragic human rights issues, and yet are also "beautiful" and "redemptive" works of art. This combination, critics have said, makes him unique among major documentary filmmakers working today. Mike McCarthy, the Senior Producer of CNN International's Freedom Project, which aired Not My Life in 2011, called the film a "seminal work". Veteran Gannet film critic Jack Garner described Not My Life as "a powerful and illuminating depiction of deep human suffering", and in an earlier nationally syndicated review called A Closer Walk "an artful motion picture, and beautifully told story of suffering and compassion." In an unprecedented Life Section cover story on AIDS in the Nation and international editions of USA Today, Steve Sternberg wrote that A Closer Walk was "a defining moment for AIDS" on film, an assertion subsequently proved to be historically accurate.
Throughout his career, Robert's films have attracted an international audience. They have been seen on television in the United States, Canada, Great Britain, Europe, Scandinavia, South Africa and China. His films have also been shown in theaters in the United States and abroad, and exhibited at major film festivals in Toronto, Montreal, Chicago, New York City (Tribeca), Durban, and the XXXVth India International Film Festival in Goa, India.
Robert's current film, Not My Life, recently received a major distribution grant from the Swedish International Development Agency, and will have its International Premiere in Brussels on October 18, the EU's Human Trafficking Day.
As the small staff at Worldwide Documentaries works on the global awareness initiative built around Not My Life, Robert is presently considering new film projects, including a film about post-earthquake Haiti; a film about poverty in the United States; and a film about the post traumatic stress experienced by veterans in the US and abroad of the Iraq and Afghanistan wars.
Early in his career, Robert worked as a freelance journalist and as a professional theatre director. Based in Nairobi, Kenya, he was a stringer for Time magazine and filed regularly for the Nairobi Daily Nation, and Agence France Presse. In the theatre, Robert has directed more than 30 professional productions in the US, Canada, and East Africa, including a landmark production of Bertolt Brecht's Mother Courage at the Kenya National Theatre. At the Manitoba Theatre Centre, he was Tony Award winner Len Cariou's Associate Artistic Director, and was named Director of the Year by the Canadian Broadcasting Corporation.
Robert was born in New York City, and was educated at the International School in Geneva, Switzerland; Hamilton College (BA, English Literature); and Indiana University Graduate School (MA, Theatre and Film). He received the Army Commendation Medal for his work as Chaplain's Assistant in the U.S. Army Special Services, 1968-1970. From 1986 to 1988 he was a Resident Scholar at the Anson Phelps-Stokes Institute for Black American and Native American Studies in New York City. Robert has also taught, lectured, and spoken at distinguished academic institutions around the world, including the Eastman School of Music, and the John F. Kennedy School of Government.
Related Links
notmylife.org
notmylifedvd.com
worldwidedocumentaries.com
2013 State Ratings on Human Trafficking Laws by Polaris Project
>