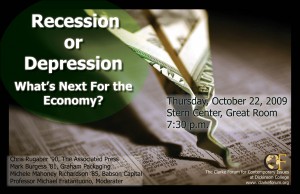 A Panel Discussion
Thursday, October 22, 2009
Stern Center, Great Room, 7:30 p.m.
In late 2008, many analysts referred to the downturn of the U.S. economy as the worst crisis since the Great Depression. A panel of experts affiliated with Dickinson College will assess the rationale and effectiveness of government policies implemented over the past year as a response to the downturn and will speculate about the future prospects for the U.S. economy.
Information about the Panelists
Chris Rugaber '90 is a reporter & economics writer for The Associated Press, the largest and oldest news agency in America. He graduated from Dickinson College and received a master's degree in political science from American University.
Mark Burgess '81 is currently the CFO from Graham Packaging in York, PA. Prior to joining Graham, Mr. Burgess served as president and CEO, as well as CFO, of Anchor Glass Container Corporation. He holds a B.A. in economics from Dickinson College and an M.B.A. from the Fuqua School of Business at Duke University.
Michele Mahoney Richardson '85 is the managing director at Babson Capital Management. Babson Capital Management serves as an investment advisor or financier to a broad range of institutional investors in the U.S. and abroad. Prior to joining Babson Capital, Ms. Richardson served as a director at Freddie Mac. She has a B.A. in economics from Dickinson College. Ms. Richardson is also a member of the Dickinson Board of Trustees.
Professor Michael Fratantuono will moderate. His academic interests include international economics, government-business relations, and U.S. foreign economic policy. He holds a B.A. from Brown University, an M.A. from the University of Rhode Island, and a Ph.D. from the University of Washington.
Topical Background
Triggered by the bursting of the housing bubble, the U.S. has gone through what some economists call the most serious financial crisis since the Great Depression. For those who are charged with constructing an effective economic recovery plan, knowing the exact severity of the situation is critical. Some economists define economic recession as a "decline in the GDP (Gross Domestic Product) for two or more consecutive quarters". Even though there are no official definitions for economic depression, it is commonly understood as a severe downturn in the economy of a country that lasts for a year or longer.
The U.S. government reacted to the financial downturn by bailing out the large, failing American corporations. Last September, the U.S. government seized control of Fannie Mae and Freddie Mac in a 200 billion dollar bail-out. One week later, Lehman Brothers investment bank declared a 600 billion dollar bankruptcy. The U.S. then bailed out AIG insurance giant for 85 billion dollars. Two days later, the White House tried to get the credit flowing by requesting a 700 billion dollar bail-out plan from Congress for all financial firms with bad mortgage securities. This rescue bill was defeated in the House of Representatives. As a response, the Dow Jones Industrial Average fell down 777.68 points — its biggest one day point drop in history.
In an attempt to reverse the downturn, Congress enacted in February 2009 the American Recovery and Reinvestment Act of 2009 to serve as an economic stimulus package. A few weeks later, on March 2, the Dow Jones Industrial Average fell below 7,000 points for the first time since 1997, after AIG reported a $62 billion quarterly loss. The U.S. unemployment rate rose to 8.5% in March, according to the U.S. Labor Department. In April and June, the U.S. automakers, Chrysler and GM, filed for bankruptcy. Since recession set in December 2007, the U.S. has lost 5.1 million jobs.