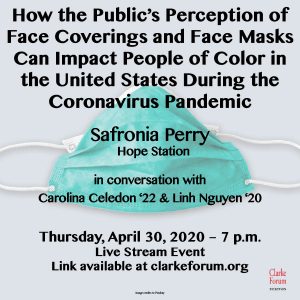 Thursday, April 30, 2020 – 7 p.m.
Live Stream Event
Participants
Safronia Perry, executive director of Hope Station
In Conversation with:
Linh Nguyen '20, student project co-supervisor at the Clarke Forum
Carolina Celedón '22, student project manager at the Clarke Forum
As of Sunday April 19th, Pennsylvania Governor Tom Wolf updated the state response to the Coronavirus to mandate that essential employees wear masks at work. The wearing of face masks and coverings is very new for most Americans. However, in other countries, this practice was already common to guard against air pollution and the spread of disease. The lack of PPE in the United States during the Pandemic has resulted in health officials suggesting that people make their own face masks and coverings using bandanas and other cloth materials. In American cities in particular, bandanas of certain colors are associated with gang membership and violence. This conversation with Safronia Perry will explore how wearing face masks and coverings could intensify racial profiling and stereotyping of people of color in America.
This program is sponsored by the Clarke Forum for Contemporary Issues.
Biography (provided by the speaker)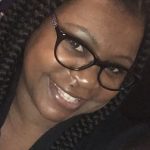 Safronia Perry is the executive director of Hope Station Area Neighborhood Council (Hope Station) which is a non- profit organization that services a low income neighborhood. It is a community organization that offers both adult and youth programs, hosts cultural events, and partners with other organizations and Dickinson College. She is the mother of two sons, a 30-year-old & 20-year-old, and will be first time grandmother in June. She attended the OIC of Carlisle, Academy of Medical Arts and Business in Harrisburg, University of Phoenix, took classes through Messiah College, and graduated from Leadership Cumberland in 2018.
She is a commissioner for the Carlisle Human Relations Commission, president of the Pennsylvania Human Relations Commission Advisory Council, member of the Pennsylvania Human Relations Commission Inter-task Force, previous board member of Domestic Violence Services of Cumberland and Perry Counties, board member for the Racial Justice Committee of the YWCA Carlisle, member of Heart and Soul committee, and member of the National Coalition of 100 Black Women Harrisburg Chapter.
Last October, she facilitated a Social Justice Forum and has spoken on various panels and rallies a Youth Forum, Sci-tech High School in Harrisburg, Giant Food Corporation and Dauphin Tech High School in Harrisburg. She is a strong advocate for black people and women's rights.
Related Links
https://www.theguardian.com/commentisfree/2020/apr/07/black-men-coronavirus-masks-safety
https://www.vox.com/2020/4/22/21230999/black-men-wearing-masks-police-bias-harris-booker-senate
https://www.inquirer.com/opinion/coronavirus-homemade-mask-black-man-philly-jenice-armstrong-20200414.html
https://www.nytimes.com/2020/04/14/us/coronavirus-masks-racism-african-americans.html
Video of the Presentation