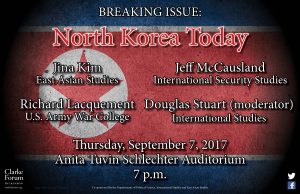 Thursday, September 7, 2017
Anita Tuvin Schlechter Auditorium, 7 p.m.
Panelists:
Jina Kim, Dickinson College
Richard Lacquement,  U.S. Army War College
Jeff McCausland, Dickinson College
Douglas Stuart (moderator), Dickinson College
This panel of experts will share their ideas regarding the current North Korean political situation, including such perspectives as the relationship between North Korea and South Korea, tactics to control the nuclear threat, and U.S. policy.
This event is sponsored by the Clarke Forum for Contemporary Issues and co-sponsored by the Departments of Political Science, International Studies and East Asian Studies.
Biographies (provided by the panelists)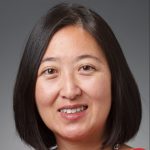 Jina E. Kim is visiting assistant professor of East Asian Studies with a focus on modern Korean history, literature, and media. Her research and teaching areas include Korea under Japanese colonial rule, transnational Asian studies, Korean diaspora, and Korean War, all of which pay close attention to the history of North Korea and North Korean relations with its East Asian neighbors. Her writings on these topics have appeared in Journal of Korean Studies, Review of Korean Studies, and Harvard Asia Quarterly, among others.
Richard A. Lacquement Jr. is the dean of the School of Strategic Landpower at the U.S. Army War College. As dean he oversees senior-level military education programs for more than 1200 rising national security professionals annually. The most considerable programs he leads are the one-year resident education program and the two-year distance education program that both award graduates a Masters of Strategic Studies degree in addition to Army and joint professional military education cre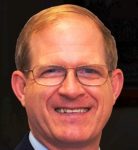 dentials. Lacquement is a political scientist with a doctorate in international relations specializing in security studies. During more than 29 years of active service in the U.S. Army, he was a strategist and field artillery officer, to include combat experience in Iraq and Afghanistan.  Before his military retirement in 2013, he had many senior level assignments, to include with NATO's International Security Assistance Force (ISAF) Joint Command in Afghanistan, as chief of plans for U.S. Forces Korea, and in the Office of the Undersecretary of Defense for Policy.  He had tactical assignments in U.S. Army Airborne, Air Assault and Armored units and teaching assignments at the U.S. Military Academy and the U.S. Naval War College.  He is the author of the book Shaping American Military Capabilities after the Cold War and several articles and book chapters on national security, the Army, civil-military relations, post-war drawdowns, stability operations and counterinsurgency. He holds a B.S. from the U.S. Military Academy, master's degrees from the Naval War College and Army War College, and M.P.A. and Ph.D. degrees from Princeton University.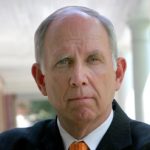 Jeff McCausland is the founder and CEO of Diamond6 Leadership and Strategy, LLC.  He is a visiting professor of International Security Affairs at Dickinson College and former dean of academics at the U.S. Army War College as well as distinguished visiting professor of research and Minerva chairholder.  McCausland is a retired U.S. Army Colonel, holds a Ph.D. from the Fletcher School of Law and Diplomacy, and a West Point graduate.  His military assignments included: the Office of the Deputy Chief of Staff for Plans, Army Staff; command of an artillery battalion during the Gulf War; dean of the Army War College; and director for Defense Policy and Arms Control, National Security Council Staff, the White House.  Since retiring from the military he has served as a chaired professor of Leadership at the U.S. Naval Academy and subsequently a visiting professor at the Penn State Graduate School of International Affairs prior to joining the Dickinson faculty.
McCausland is a national security consultant for CBS radio and television.  He has provided extensive analysis of American national security policy and the crisis in Korea for over fourteen years.  He is also a senior fellow at both the Carnegie Council for Ethics in International Affairs and the Stockdale Center for Ethical Leadership at the Naval Academy.  He has published and lectured broadly both in the United States and over twenty-five foreign countries on national security affairs, NATO, the wars in Afghanistan/Iraq, security in Asia, civil-military relations, and leadership development.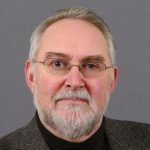 Douglas Stuart (moderator) is the first holder of the Stuart Chair in International Studies at Dickinson College.  He is also an adjunct research professor at the U.S. Army War College.  His research tends to focus on two topics: the history of, and proposals for reform of, the U.S. national security bureaucracy and U.S. foreign and security policies in the Indo-Asia-Pacific region.  His writings on Asian security have appeared in several journals, including Asian Affairs, the Georgetown Journal of International Affairs, and the Korean Journal of Defense Analysis.