Wednesday, February 8
Indigenous Australia: A Contemporary Snapshot
Stern Center, Great Room, 7:00 p.m.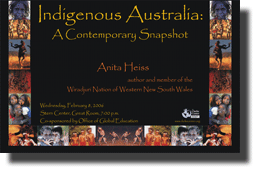 Issue in Context
Indigenous Australians, commonly called Aborigines, form one of the oldest surviving cultures in the world. Native art, music, a strong faith, and family systems are key characteristics of the rich aboriginal culture, from the didgeridoo to dreamtime to fire-stick farming. Believed to have arrived in Australia about 40,000 years ago, there were 350-750 distinct groups with different dialects and languages when English colonists arrived in the eighteenth century.
Settlers did not value the native customs and values and gradually forced simulation across the country. Massive dispossession of traditional lands, disease and direct violence caused a 90 percent population decrease of Aborigines between 1788 and 1900. The population plummet eventually leveled as communities developed resistance to diseases and adapted to their circumstances. However, many of the tribal cultures and languages had been lost. Their traditional nomadic lifestyle was no longer viable with the increase of appropriated land, and many Aborigines worked on farms, paid for their labor with food, clothing and other basic necessities. They were not legally Australian citizens, and could not vote. Further family and cultural damage occurred from the Australian government's removal of Aboriginal children from their families for social welfare between 1900 and 1972.
There have been several improvements in the past 50 years, with the first Aboriginal Australian gaining Australian citizenship in 1957. In 1962, Aborigines were given the right to vote in commonwealth elections, and later in all state elections as well. In 1967, clauses discriminatory to indigenous Australians were removed from the Australian constitution. During the 1970's, the Aboriginal Land Rights Act was passed, allowing some traditional lands to be returned to the Aborigines. More recently, the Australian government has apologized for the removal of Aboriginal children from their homes, among other wrongs, in a National Sorry Day and National Reconciliation Week. Though many positive changes have been made, both urban and rural Aborigines still face numerous health and economic issues, including decreased school completion and university attendance rates, and are more likely to be imprisoned, clearly showing that there is still much progress to be made.
About the Speaker
Dr. Anita Weiss is a member of the Wiradjuri nation of Central South Wales and has become one of Australia 's most prolific and well known indigenous authors. She has a wide range of published works, including the historical novel, Who Am I? The Diary of Mary Talence, Sidney 1937, the poetry collection Token Koori, and a work of satirical social commentary Sacred Cows, nonfiction text Dhuuluu- Yala (To Talk Straight)- Publishing Aboriginal Literature. Dr. Heiss is on several national boards and committees including Management Committee for the Australian Society of Authors and the Board of Directors for Gadigal Information Services, and is Deputy Chair and holder of the Indigenous Portfolio at the Australian Society of Authors. Dr. Heiss was awarded the ASA Medal for Under 35's for her contribution to Australian community and public life in 2003 and the NSW Indigenous Arts Fellowship in 2004. She also was listed as one of The Bulletin magazine's "Smart 100" and received a nomination for a 2004 Deadly Award for Outstanding Achievement in Literature. She is currently Writer in Residence at Macquarie University in Syndey , Australia .
Related Links
. Indigenous Australians- Encyclopedia Article
. National Aboriginal and Torres Strait Islander Education Website
. AboriginalAustralia.com
. National Reconciliation Week
. National Sorry Day