Monday, April 10, 2006
Here, Bullet
Stern Center, Great Room, 7:00 p.m.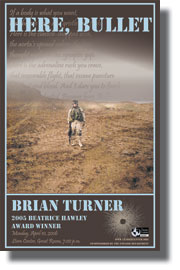 Issue in Context
A majority of the poems in Here, Bullet were written during Turner's one-year tour in Iraq and reflect the struggle to understand his place in the War and the world. This first-hand account of the War in Iraq stands as a powerful witness to the actual events of the War. The poems are neither politically skewed nor do they make moral assumptions. Instead, they leave the reader to draw conclusions and feel the poetry.
The first and only of Brian Turner's published books to date, Here, Bullet has garnered national acclaim. Both author and poetry have been featured in many publications and radio broadcasts, including Maine Things Considered and NPR. Here, Bullet is the recipient of the 2005 Alice James Books' Beatrice Hawley Award.
Reviews of Here, Bullet
• "The day of the first moonwalk, my father's college literature professor told his class, 'Someday they'll send a poet, and we'll find out what it's really like.' Turner has sent back a dispatch from a place arguably more incomprehensible than the moon—the war in Iraq —and deserves our thanks…"
– The New York Times Book Review
• "As a war poet, [Brian Turner] sidesteps the classic distinction between romance and irony, opting instead for the surreal."
– The New Yorker
About the Speaker
After earning an M.F.A. in poetry from the University of Oregon , Brian Turner began a life of travel. He lived in South Korea for a year before serving seven years in the U.S. Army. He was deployed to Bosnia-Herzegovina from 1999-2000 with the 10th Mountain Division and most recently to Iraq from 2003-2004 with the 3 rd Stryker Brigade Combat Team, 2 nd Infantry Division. There, he was stationed near Mosul and was a team leader in the first Stryker brigade to enter the combat zone.
His poetry has been published in Poetry Daily, The Georgia Review and other journals, and in the Voices in Wartime Anthology published in conjunction with the feature-length documentary film of the same name.
"In Iraq , I was a sergeant. I was a team leader. My job was to accomplish the missions given to me and to see that my men made it home safe when it was all over. At the same time, I saw myself as an embedded poet; it was my job to witness, to provide testimony, however limited and filtered through the lens of my own faulty perceptions, to the ongoing war. Death hovered over all of this."
– Brian Turner, excerpt from an essay for The New York Foundation for the Arts
Related Links