Documentary Filmmaker
Residency: Tuesday, March 7  – Thursday, March 9, 2017
Tuesday, March 7, 2017
Stern Center, Great Room, 7 p.m.
Film Screenings: Afloat  and  Our Time is Now
Wednesday, March 8, 2017
Anita Tuvin Schlechter Auditorium, 7 p.m.
Keynote: Inviting Empathy through Documentary Filmmaking

Documentary filmmaker and community artist Hudson will share her process of storytelling exploring how she finds, receives, shares and engages stories based in human dignity, vulnerability, and emotional truths.
This residency is sponsored by the Clarke Forum for Contemporary Issues and a Civic Learning and Engagement Initiative Grant from the Andrew W. Mellon Foundation, and co-sponsored by the Departments of English and German, and the Film Studies Program. It is part of the Clarke Forum's semester theme, Media, Technology and Civic Engagement.
Biography (provided by the speaker)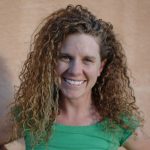 Passionate about sharing stories with depth, dignity, and respect, Erin Hudson founded the documentary film production studio, Rotation Films. She works as an independent director, producer, editor, and cinematographer. Her films have been screened in festivals world-wide, including Telluride Film Festival, Full Frame, and True/False. Her most recent feature film, Our Time is Now, was broadcast locally and nationally through the PBS program, American Graduate. Her awards include a student Academy Award, The International Documentary Association Student Award, A New Visions New Mexico Award, and Best Documentary at the Angelus Awards. Hudson is committed to video and film education, has taught college courses and co-created Turn the Lens, a community based program that recognizes the power of participant created media. Additionally, she was a member of the artist team for the year-long arts community collaboration, Stories of Route 66: The International District.
Video of the Lecture