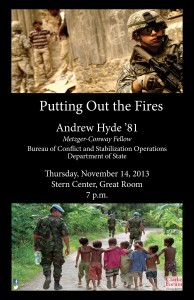 Partnership Manager, CSO, Department of State
Putting out the Fires
Thursday, November 14, 2013
Stern Center, Great Room, 7 p.m.
New forms of politics and new types of technologies have unleashed new kinds of conflicts in disparate parts of today's world.  Hyde, a Metzger-Conway Fellow, will explore how U.S. foreign policy must evolve to confront these challenges and seize the opportunities they present.
This event is sponsored by the Clarke Forum for Contemporary Issues and is part of the Clarke Forum's Leadership in an Age of Uncertainty Series.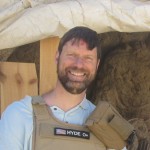 Biography (provided by the speaker)
A twenty-year veteran of the foreign service, Andrew Hyde is currently the partnership manager at the Department of State's Bureau of Conflict and Stabilization Operations (CSO).  In that position he designs and manages the Bureau's outreach to other governments, multilateral institutions and NGOs including think tanks.   The Bureau, created in 2012 as a result of the State Department's first Quadrennial Diplomacy and Development Review, identifies regions in the world prone to conflict and instability and devises programs and solutions to disrupt cycles of violence.
Previously, Hyde served as the deputy coordinator for Regional Command East at Embassy Kabul's Office of Interagency Provincial Affairs where he was responsible for the largest contingent of U.S. field-deployed civilians.  Working alongside their U.S. military partners at Command headquarters, Provincial Reconstruction Teams and District Support Teams, the civilians, under the Embassy's direction, used the targeted development assistance to improve governance and accountability of the Afghan national and local governments.
Prior to that, Hyde was deputy political counselor at the U.S. Mission to the Organization for Security and Cooperation in Europe, covering a number of issues related to comprehensive European security.  He has served in a variety of positions at Embassies in Europe and Latin America as well as the State Department in Washington.
Before joining the U.S. Department of State, Hyde worked as a staffer in the U.S. Congress specializing in economic and financial issues.  He has also worked at the European Commission in Brussels and for a British Member of Parliament in London.
Hyde earned a master's degree in economics at the London School of Economics and pursued graduate studies in political science at the Hebrew University in Jerusalem.  He received a bachelor of arts degree from Dickinson College in Carlisle, Pennsylvania.  Andrew is married with twin sons.
Video of the Lecture