Anita Tuvin Schlechter Auditorium, 7 p.m.
In Celebration of 150 Years of The Dickinsonian
A Conversation on Corrections in Ink
Keri Blakinger, Los Angeles Times
Renée Ann Cramer, Dickinson College
In this program, Blakinger will discuss her memoir which traces her journey from competitive figure skating, to struggles with an eating disorder and addiction, to eventually a two-year sentence in New York's prison system. Blakinger will reflect on her experiences and how they have influenced her work as an investigative reporter covering mass incarceration. The discussion will be facilitated by Dickinson's Provost Renée Ann Cramer. A book sale and signing will follow the presentation.
This program is sponsored by the Clarke Forum for Contemporary Issues and The Dickinsonian and co-sponsored by the Department of Sociology.
Biographies (provided by the speakers)
Keri Blakinger is a staff reporter at the Los Angeles Times, where she covers the sheriff's department and jails. Previously, she was an investigative reporter at The Marshall Project where she focused on incarceration and prior to that she covered the death penalty and prisons for the Houston Chronicle. She's been featured on PBS News Hour and HBO Real Sports, and her work has appeared in the The New York Times, on the BBC and in the Washington Post Magazine. Her 2019 feature on women's jail for the Post helped win a National Magazine Award. She is the author of the 2022 memoir, Corrections in Ink, about the time she spent as a state prisoner in New York.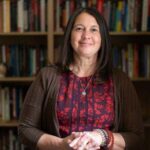 Renée Cramer became provost and dean of the college in July 2023. Prior to arriving at Dickinson, Renée served as deputy provost for academic affairs at Drake University (Des Moines, Iowa) after having been faculty senate president (2017-18) and department chair of Law, Politics and Society for more than a decade. An interdisciplinary sociolegal scholar, Renée earned her Ph.D. in politics from New York University in 2001. Her dissertation on federal acknowledgment of American Indian tribal governments won the American Political Science Association's "Best Dissertation in the Field of Race and Ethnicity" that year and was published by the University of Oklahoma Press (Cash, Color, and Colonialism: The Politics of Tribal Acknowledgment, 2005). Renée's most recent teaching and scholarship has focused on reproductive justice, legal mobilization and the governance of women's bodies, culminating in several articles and two book publications (Pregnant With the Stars: Watching, and Wanting the Celebrity Baby Bump, Stanford University Press 2015; Birthing a Movement: Midwives, Law, and the Politics of Reproductive Care, Stanford University Press 2021). A proud graduate of Bard College ('94), Renée brings to Dickinson an unwavering commitment to the liberal arts; to interdisciplinary education; to diversity, equity, inclusion and accessibility; and to supporting faculty and staff to help our students accomplish their best and most meaningful work.