FaithTrust Institute
Wesley Lecture
Wolves in Shepherds' Clothing
Tuesday, March 31, 2020
Anita Tuvin Schlechter Auditorium, 7 p.m.
The problem of misconduct by faith leaders causing harm to congregants and congregations stretches across faith communities.  Finally the extent of this reality is being revealed by the courageous voices of survivors.  Our faith communities now face the challenge of responding with justice and compassion.
This lecture is sponsored by the Clarke Forum for Contemporary Issues and the Center for Spirituality and Social Justice with special thanks to the Baltimore-Washington Conference of the United Methodist Church and co-sponsored by the Women's & Gender Resource Center, Community Studies, and the Program in Policy Studies. It is part of the Clarke Forum's Leadership in an Age of Uncertainty Series.
Biography (provided by the speaker)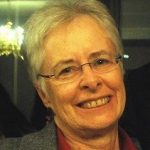 Rev. Dr. Marie M. Fortune is a renowned author, lecturer, ethicist, theologian, and a pioneer in the movement to end domestic and sexual violence. Fortune founded the Center for the Prevention of Sexual and Domestic Violence, now known as FaithTrust Institute, in 1977.
In 1983, Fortune was the first theologian who wrote on the relationship between sexual violence and religion with her book, Sexual Violence: The Unmentionable Sin. It was revised with the 2005 release of Sexual Violence – The Sin Revisited. She was one of the first persons to call religious communities to accountability on the issue of sexual abuse by clergy. Her commitment has been to provide the spiritual, intellectual and practical resources to those who encounter victims, survivors and perpetrators of interpersonal violence. Her subsequent efforts have changed the way religious leaders and institutions respond to sexual and domestic violence.
She has authored several books on sexual ethics, sexual and domestic violence, and abuse by religious leaders. She also provided a forum for critical and in-depth discussions on religion and abuse with the founding of the Journal of Religion and Abuse, where she served as editor.
Fortune has received many honors and awards for her work, including Alumni Award of Distinction, Yale Divinity School, New Haven, CT; Social Prophet Award from the United Church of Christ and the 2018 Ed Gondolf COMPASS Award, Battering Intervention Services Coalition of Michigan; as well as Honorary Doctorates from Starr King School for the Ministry, Berkeley, CA, and Eden Theological Seminary, St. Louis, MO.
"No one has done more to name and change the attitude and culture of the church about sexual and domestic violence than Marie Fortune. She has spoken out when it was difficult and given leadership where it is needed."
– Rev. Dr. David Greenhaw, President of Eden Theological Seminary, 2014
The Wesley Lecture
The Wesley Lecture grows out of the historical relationship between Dickinson College and the Methodist Church, a relationship that has its roots in the 19th century. The lecture highlights contemporary conversations and controversies in faith communities and in higher education about the importance and role of community, commitment, and service for the education of the citizen-scholar.